About PRI
Pure & Sustainable Manuka Honey

Our New Zealand bees only make sustainable manuka honey, from our Oceanic bee's nest to your table.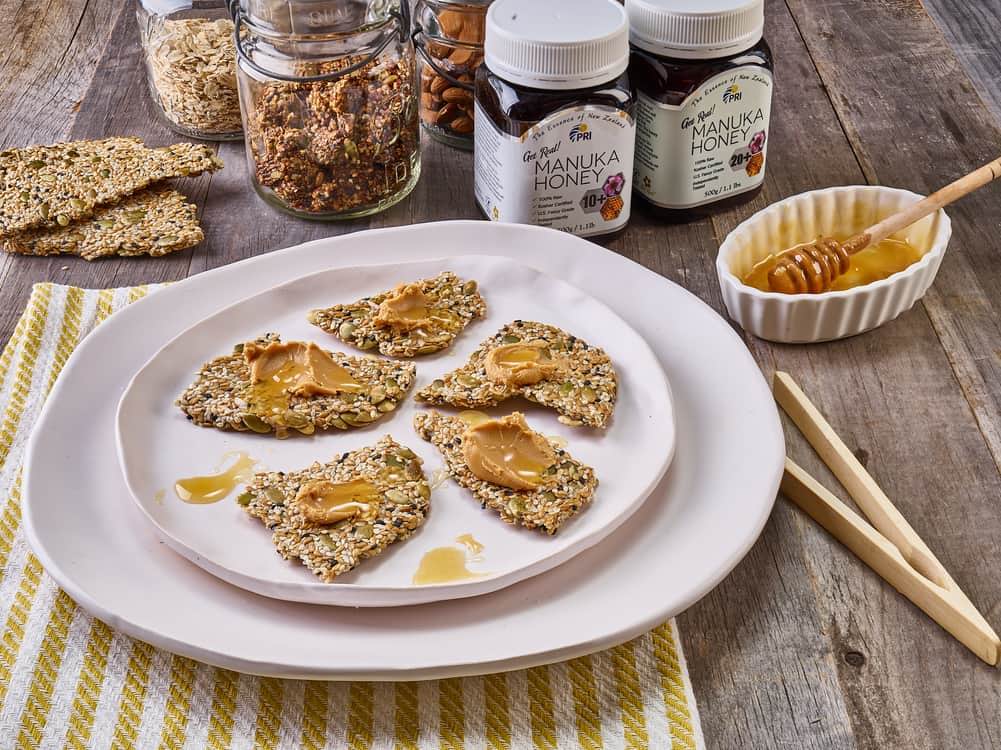 ---
David Noll discovered Manuka Honey while traveling to far off New Zealand with a guitar in one hand and a surfboard in the other. He had no idea that his voyage to the other side of the world would change the course of his professional and personal life forever.
After just a few days in New Zealand, David met a beautiful Kiwi girl Linda and what was originally intended to be a short visit led to a thirteen year stay including a marriage and the birth of three of their eventual six children.
David fell in love with Linda and her native country, marveling at its natural splendor, untouched purity and passion for personal wellness. Eventually they moved back to his hometown in California.
In 1987 David founded the company PRI and became the first to introduce Manuka Honey to the U.S.. David somehow anticipated just how globally marketable this very special gift from nature would be.  
---
Manuka is the only honey that exhibits non-peroxide activity due to the Methylglyoxal (MGO) component only present in Manuka Honey at high concentrations. Our family-owned beekeepers harvest Real Manuka in New Zealand from the Manuka Tree (Leptospermum scoparium). Manuka Honey has been found to have antibacterial and other wellness benefits for consumers.
What does 5+, 10+, 20+ mean?
---
The numbers indicate the relative concentrations of MGO within each bottle. The higher the concentration, the more health benefits can be expected from consuming the honey. If this is your first time trying Manuka Honey, we recommend starting with the 5+ or 10+ before moving to the 20+ concentration. The flavor of the honey is consistent....
How can I use Manuka Honey?
---
Manuka Honey can be used on pretty much any food of your choice or even eaten right off a spoon! Manuka Honey is still a delicious natural sweetener at the end of the day, so we recommend adding it to whatever else you would usually add your honey to.
"We have enjoyed this salt for many years and buy it by the case. I use it to season everything. From butter cream to brownies....salads to steaks...it's my secret ingredient."
Cynthia
"Each little, three-bite patty is so pure and delicious I can't bear to call it candy but that's because it's better than any candy I've ever tasted. Bitter smooth chocolate mixed with sweet smooth Manuka Honey. YUM!"
Dianne
"Getting a sore throat? The most delightful way to relieve and really enjoy the experience is to suck a manuka honey chocolate. Can you think of any tastier medicine? I can't!"
Janet
---
Manuka Honey Helps Soothes Burns:
Scientific studies show Manuka Honey as a viable option for wound dressing. The physical properties of honey create a favorable environment for skin repair, while its antibacterial nature also supports healing. Source 1 | Source 2

Manuka Honey Supports Gut Health:
Evidence shows Manuka Honey may support gut health as a prebiotic (due to the presence of oligosaccharides). More information.
Its anti-inflammatory properties may also positively impact inflammatory bowel disease. More information.
Studies demonstrate Manuka as an alternative treatment in fighting bacteria such as Helicobacter pylori (H. pylori). and Clostridium difficile (C. diff). More information.
Manuka Honey is Great For Skin:
Manuka honey works well as a face mask and wash. It leaves skin feeling soft and smooth, plus its antibacterial properties may help reduce acne. Since honey is hygroscopic, it draws moisture to the skin, helping it stay hydrated.
Manuka Honey Aids Sore Throat:
Manuka provides relief by coating the throat as well as fighting the bacteria that is causing pain. More information.